Ingredients: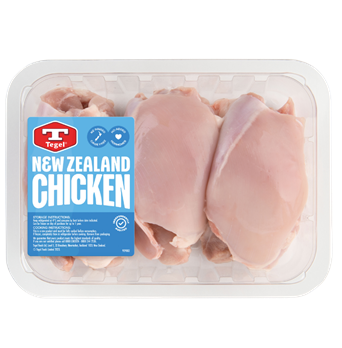 4 cloves garlic, roughly chopped
5cm piece fresh ginger, roughly chopped
3 shallots, roughly chopped
1–3 red chillies (according to taste), deseeded and chopped
2 teaspoons tamarind purée
1 tablespoon brown sugar
2 teaspoons soy sauce
3 tablespoons fish sauce
2 teaspoons ground coriander
2 teaspoons ground cumin
400ml can coconut milk
1 tablespoon vegetable oil
4 whole cloves
2 star anise
1 cinnamon stick
20 fresh curry leaves (optional)
Toasted shredded coconut to garnish
Fresh coriander leaves to garnish
Method:
Place the garlic, ginger, shallots, chillies, tamarind, brown sugar, soy sauce, fish sauce, coriander, cumin and coconut milk into a food processor and process to form a purée.
Put the oil in a large heavy-based saucepan. Add the cloves, star anise, cinnamon stick and curry leaves, if using. Stir-fry for 1–2 minutes over medium heat.
Add one-third prepared puree to the pan and bring to the boil. Add the Tegel Fresh Chicken Skinless Thighs pieces and turn to coat them. Cook the chicken for 5 minutes then add the remaining puree. Bring to a simmer then lower the heat and continue to simmer uncovered for 50 minutes, stirring frequently to prevent it from sticking, until the chicken is cooked through. Continue to cook for a few more minutes, stirring every minute, until the sauce is reduced enough to form a thick coating on the chicken.
Garnish with toasted coconut and coriander leaves and serve with rice.
Tips for Aromatic Chicken Curry with Coconut Cream:
Rate this recipe
Share this recipe