Ingredients: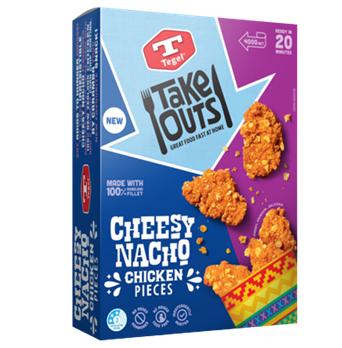 1

 box Tegel Take Outs Cheesy Nacho Chicken Pieces

4 large tortillas, warmed

400g tin refried beans

 

1

 cup grated mozzarella cheese

1/4 iceberg lettuce, cut into strips or shredded

1 tomato, finely chopped

1 red onion, finely chopped

½ cup of sour cream

Handful of corn chips

Tomato salsa, to serve
Method:
Cook the Cheesy Nacho Pieces in oven or air fryer as per packet instructions.

While the chicken is cooking, place tortillas on a flat surface and cut one straight line from the bottom to the centre of each tortilla.

Add a tablespoon of sour cream on the bottom left of each tortilla, followed by a small handful of the lettuce, tomato and onion.

Next, add three pieces of chicken to the top left, and the refried beans and cheese on the top right.

Lastly, add the corn chips to the bottom right.

Fold clockwise from the left to the right, starting from the salad and finishing with the corn chips.

Eat your cheesy nacho foldovers fresh, or chuck them in the sandwich press for extra crunch and melted cheese goodness!
Rate this recipe
Share this recipe