Ingredients: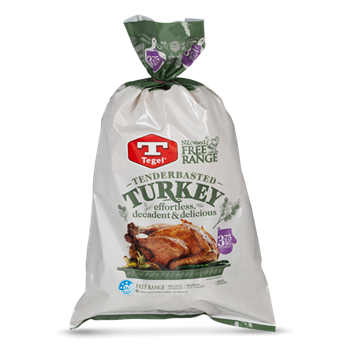 Citrus-glazed Turkey:
1 x 4.5 Free Range Tegel Turkey
50g butter, melted
¼ cup orange juice
¼ cup marmalade
2 tablespoons chopped fresh thyme or rosemary
1 orange, sliced
Ginger and Maple Kumara with Roasted Macadamias:
2 orange or gold Kumara
2 purple kumara
1-inch piece fresh ginger, peeled and finely sliced
2 tablespoons maple syrup
2 tablespoons olive oil
¼ cup roughly chopped macadamias
2 bunches Asparagus
1 lemon
Olive oil for drizzling
Sea salt & cracked pepper
Method:
Pre-heat the oven to 165c, and line a large roasting pan with baking paper.
Prepare turkey and stuff if desired, tie the legs together with cooking string and transfer to the lined roasting dish.
Combine the butter, juice, marmalade and thyme to make the glaze and brush half the glaze over the turkey, cook for 1 hour then spoon over remaining glaze and continue cooking for another 1 -1/2 hours or until the juices run clear. Add the orange slices for the last half an hour and baste turkey using the pan juices. Cover the turkey after cooking and rest for 15 minutes before carving.
For the ginger kumara, cut the coloured kumara into slices and toss with the ginger, maple and oil then roast in a single layer on a lined baking tray until golden and tender. Add the macadamias to toast for the last 5 minutes of cooking.
Trim and blanch the asparagus then dress with a sprinkle of lemon zest, juice and olive oil, season well and toss together.
Tips for Citrus Glazed Turkey with Ginger & Maple Kumara & Roasted Macadamias:
Rate this recipe
Share this recipe