Ingredients: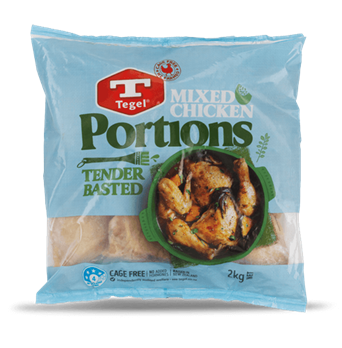 SHOP WITH MENUAID

20g butter
24 baby onions (or shallots), peeled
2 stalks celery, leave whole
3 rashers smokey bacon, diced
24 brown button mushrooms, stalks removed 
1.5kg Tegel Mixed Chicken Portions 2kg excess fat removed 
2 tablespoons olive oil 
500ml red wine (Pinot Noir or Burgundy)
250ml chicken stock
3 bay leaves 
2 tablespoons fresh thyme
2 tablespoons flour to thicken (optional)
Method:
Melt the butter in a large flame proof casserole. add the baby onions (or shallots), celery stalks and bacon. Sauté until golden.  Remove vegetables and bacon and set aside.
Add the mushrooms and  sauté for 2-3 minutes. Remove these and set aside.
Heat the olive oil in the casserole and brown the Tegel Mixed Chicken Portions 2kg pieces. If necessary, do this in 2-3 batches so as not to overcrowd the pot. Once finished browning, return all the chicken, onions, celery and bacon to the pot.
Pour in the wine and bring to the boil for 2 minutes – this allows the alcohol to cook off. Add the chicken stock, bay leaves and thyme. Bring to the boil, cover then simmer for 45 minutes–1 hour, (Alternatively cover and cook in a preheated oven at 160°C for 1 hour) until the chicken is very tender and falls off the bone.  Add the sautéed mushrooms and season.
Thicken the sauce if you wish with the flour mixed with water, cooking for a further 10 minutes.
Serve with boiled baby potatoes and seasonal vegetables.
Rate this recipe
Share this recipe