Ingredients: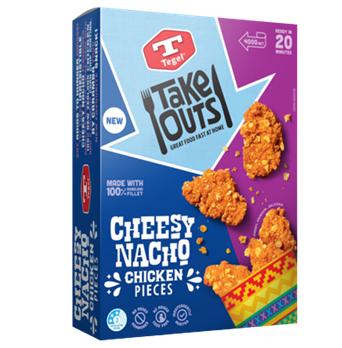 1 – 2 capsicums, sliced into long strips

½ teaspoon cumin

½ teaspoon chipotle powder

1 – 2 large flour tortillas

½ cup grated mozzarella cheese

12 toothpicks

1 jar tomato salsa

 
Method:
Cook the Cheesy Nacho Pieces in the oven or air fryer as per packet instructions.

While the chicken is cooking, heat a splash of oil in a large fry pan over high heat. Add the capsicum slices and stir-fry until beginning to char. Sprinkle over the spices and cook for 30 seconds more. Remove from heat and set aside.

When the chicken has 5 minutes left cooking, slice the flour tortilla into 12 long strips. Place the strips on a separate lined baking tray and sprinkle over the mozzarella cheese. Place under the grill for a couple of minutes until the cheese is golden and melted.

Working one at a time, place a Cheesy Nacho Piece at the bottom of a tortilla strip. Add a couple of slices of capsicum, then roll the tortilla strip up, securing with a toothpick. Repeat with remaining chicken pieces and tortilla strips.

Place on a serving platter with a bowl of salsa for dipping.
Rate this recipe
Share this recipe