Ingredients: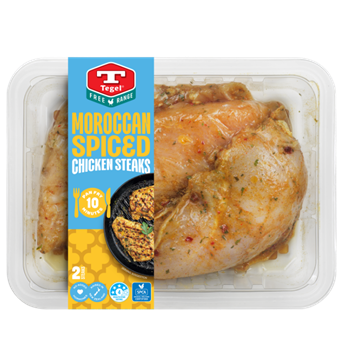 ¼ cup almonds, chopped

1 small onion, sliced

1 clove garlic, crushed

1 teaspoon turmeric

1 pack microwave basmati rice

1 lemon, juiced

¼ cup mint leaves

To serve

Yoghurt, to serve

Chilli oil, to serve
Method:
Heat a knob of butter in a fry pan over medium heat. Toast almonds until golden and fragrant, about 3-5 minutes. Transfer to a bowl and set aside. Reserve the pan.

Sauté onions garlic and turmeric, until soft and translucent.

Meanwhile microwave the rice as per packet instructions. Add the cooked rice to the pan with onion, garlic and turmeric. Fry on a low heat for 3-5 minutes to get fragrant. Transfer onto two serving plates.

Cook Moroccan Chicken as per packet instructions. Leave to rest before slicing.

Serve the chicken evenly on top of the turmeric rice and sprinkle over the toasted almonds, mint leaves and squeeze of lemon.

To serve, add a dollop of yoghurt and a drizzle of chilli oil.
Rate this recipe
Share this recipe
You might also like

Related Recipes:

Related Products: