Ingredients: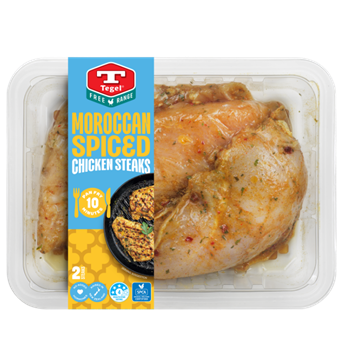 SHOP WITH MENUAID

2 large flatbreads or wraps

¼ cup natural yoghurt

1 cup baby spinach, thinly sliced

1 roasted capsicum, finely sliced
Method:
Pan fry the Moroccan Spiced Chicken Steaks as per packet instructions.

Gently heat the flatbreads until warmed though.

Spread a generous dollop of yoghurt on each flatbread and top with the sliced spinach and capsicum.

Leave the chicken to rest for a couple of minutes, then slice into pieces

Add the chicken to the flat bread, then wrap up tightly and enjoy.
Serve with: A sprinkle of feta cheese.
Rate this recipe
Share this recipe
You might also like

Related Recipes:

Related Products: