Ingredients: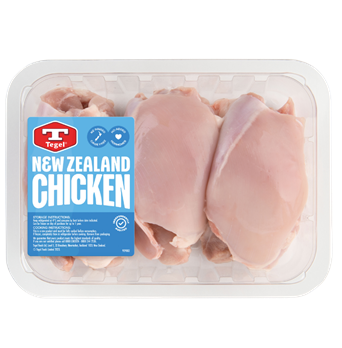 1½ cups long-grain rice
2 eggs, lightly beaten
300g Tegel Fresh Chicken Skinless Thighs, cut into small pieces
4 shallots, finely chopped
2 cloves garlic, thinly sliced
1 teaspoon shrimp paste
1 – 2 red chillies, deseeded and sliced
1 cup small cooked prawns
1 cup finely shredded Chinese cabbage
1 cup bean sprouts
2 tablespoons kecap manis
1 tablespoons soy sauce
Fried shallots to garnish
Chopped peanuts to garnish
Method:
Cook the rice according to directions on the packet until only just cooked – it will cook a bit more when added to the pan later. Spread the cooked rice in a thin layer on a baking tray to cool quickly.
Heat a frying pan over high heat. Add a dash of oil and quickly add the egg mixture, swirling it around the pan to make a thin layer. Once it is golden, flip the omelette. Cook for few more seconds on the other side and remove it from the pan. Slice the omelette into small strips, ready to add to the rice when required.
Add a little extra oil to the pan. Add  the Tegel Fresh Chicken Skinless Thighs. Cook for 3–4 minutes or until the chicken is browned.Push the chicken to one side of the pan. Add the shallots, garlic, shrimp paste and chillies to the pan and cook for 2–3 minutes until the mixture is fragrant.
Add the rice, prawns and cabbage and mix all ingredients gently together. Cook until it has heated through and the cabbage has softened. Add the strips of omelette, bean sprouts, kecap manis and soy sauce.
To serve, garnish with fried shallots and chopped peanuts.
Rate this recipe
Share this recipe