Ingredients: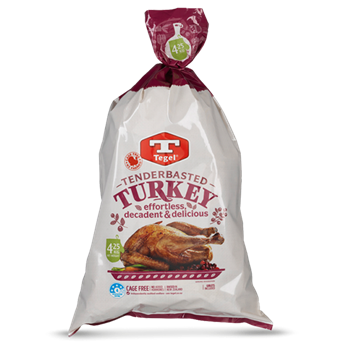 Stuffing:
2 tablespoons olive oil
2 tablespoons butter
2 Tegel Manuka Smoked Chicken Rashers chopped
1 large onion, finely chopped
3 garlic cloves, crushed
1 celery stalk, finely chopped
½ French stick, diced into 1cm pieces
1/2 cup chopped dried apricots
2 eggs, lightly beaten
Glaze:
50g butter, melted
2 tablespoons olive oil
1/4 cup lime juice
2 tablespoons Dijon mustard
1 tablespoon runny honey
1 cup chicken stock
Method:
Preheat the oven to 160°C.
Stuffing: Heat the olive oil and butter in a pan. Add the Tegel Manuka Smoked Chicken Rashers , onion, garlic and celery and cook over medium heat for 3-4 minutes. Remove from the heat and place into a large bowl with the bread and dried apricots. Add the beaten eggs and mix well. 
Glaze: Combine the butter, oil, lime juice, mustard and honey. Set aside.
Remove the neck and giblet packs from the body and cavity of the Tegel Whole Frozen Turkey - Various Sizes.
Spoon the stuffing into the turkey cavity. Tie the turkey legs together. Tuck the wings underneath and place onto a rack in a roasting dish.
Brush with about 3/4 of the glaze and pour the chicken stock into the dish. Cover the turkey with a layer of baking paper followed by a layer of tin foil, and roast for 1 hour*.
Remove the baking paper and foil, and baste with the juices in the dish. Continue cooking for a further 1 hour 40 minutes*, or until the turkey is golden brown and the juices run clear when the turkey is pierced through the thickest part of the thigh. Baste frequently during cooking.
When the turkey is cooked, brush with the remaining glaze, remove it from the oven and transfer it to a warmed plate. Cover loosely with tin foil and rest for 15 minutes. If desired, use the pan juices to prepare gravy.
Serve with roasted or barbecued mixed vegetables, boiled baby new potatoes and green beans with almonds or a green salad. Suggested vegetables are kumara, crushed garlic, red onion, red and yellow peppers, baby carrots and courgettes tossed with fresh herbs.
* Cooking times are based on a size 3.5 Tegel Whole Frozen Turkey - Various Sizes. For other sizes cooking times see our turkey tips
Tips for Roast Turkey with Lime & Dijon Mustard Glaze:
Rate this recipe
Share this recipe
You might also like

Related Recipes: