Ingredients: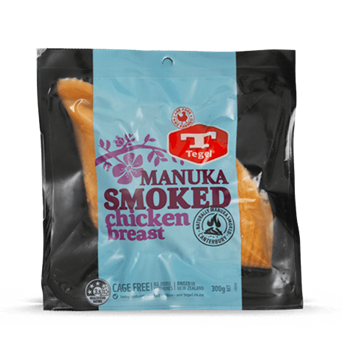 5-6 medium sized beetroot
1-2 tablespoons olive oil
1 teaspoon ground cumin
2 cloves garlic, crushed
¾ cup Greek style yoghurt
1 tablespoon roughly chopped mint
Large handful mesclun or rocket leaves
70g packet pistachio nuts, lightly toasted and roughly chopped
Extra mint leaves for garnish
Method:
Preheat oven to 160°C.
Scrub and trim the beetroot and then chop into 2-3cm chunks. Place beetroot on a large piece of aluminium foil in a roasting dish. Draw the foil up over the beetroot and pinch to seal. Bake for 30 minutes.
Carefully open the foil and drizzle with olive oil, sprinkle over the cumin and continue to cook until a skewer slides into the beetroot with little resistance. About 15 minutes more in total. Remove from the oven and allow to cool to room temperature.
Mix together the garlic, yoghurt and chopped mint. Season to taste.
Slice Tegel Manuka Smoked Chicken Breast - Original 300g into bite sized pieces.
Scatter salad leaves on a platter or individual plates, and then arrange smoked chicken slices on top. Pile beetroot on top of the chicken and then spoon over the yoghurt dressing and sprinkle with pistachio nuts. Scatter over the extra mint leaves to garnish.
Rate this recipe
Share this recipe