Ingredients: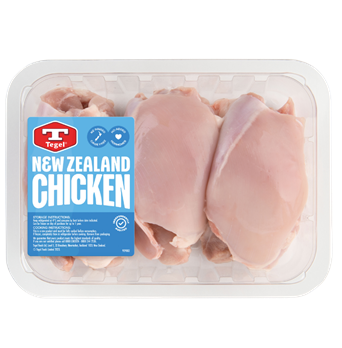 1 onion, chopped
2 cloves garlic, crushed
1 celery stalk, chopped
1 carrot, chopped
400g Tegel Fresh Chicken Skinless Thighs, cut into small pieces
1 long red chilli, chopped
1 teaspoon ground cumin
1/2 teaspoon smoked paprika or paprika
2 cups chicken stock
2 cups water
400g can chopped tomatoes
3/4 cup dried red lentils, rinsed and drained


Parmesan Toasts:
1 small baguette, thinly sliced
1/4 cup olive oil
1/2 cup grated parmesan cheese
Method:
Heat a dash of oil in a large saucepan. Add the onion, garlic, celery and carrot and cook over medium heat for 3 to 4 minutes or until the onion is golden. Add the Tegel Fresh Chicken Skinless Thighs, chilli, cumin and paprika and cook for a further 3 to 4 minutes or until the chicken is lightly browned.
Add the chicken stock, water, tomatoes and lentils. Simmer for 20 minutes or until the lentils are tender.
Parmesan Toasts:
Preheat the oven to 180°C.
Brush the baguette slices with oil, place on a baking tray and bake for 10 minutes or until they are lightly browned. Sprinkle with parmesan then bake for a further 5 minutes.
Serve the parmesan toasts with the soup.
Tips for Spicy Chicken, Tomato & Lentil Soup with Parmesan Toast:
Rate this recipe
Share this recipe