Ingredients: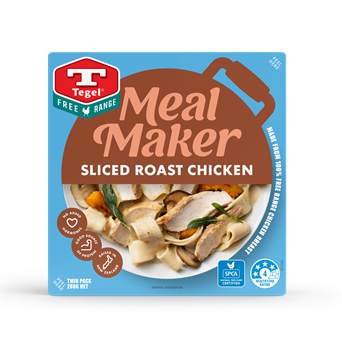 2 large pre-made pizza bases
¾ cup pizza sauce
1 clove garlic, crushed
3 tomatoes, sliced
1 ball fresh mozzarella, sliced in rounds
Fresh basil leaves & chilli flakes to serve
Method:
Pre-heat oven to 220°C fan-bake.
Place the pizza sauce in a bowl, add a splash of olive oil and mix through the crushed garlic. Spread evenly across the two pizza bases.
Top with the sliced roast chicken and sliced tomatoes and place in the oven for 10 minutes. Remove from the oven and top with the mozzarella slices and place back in the oven for 5 minutes, until the cheese is melted in puddles.
Sprinkle over the fresh basil leaves and chilli flakes and leave to sit for 5 minutes before slicing.
      Tip: For extra cheesy goodness, add a sprinkle of grated cheese after you have spread over the pizza sauce.
Rate this recipe
Share this recipe