Ingredients: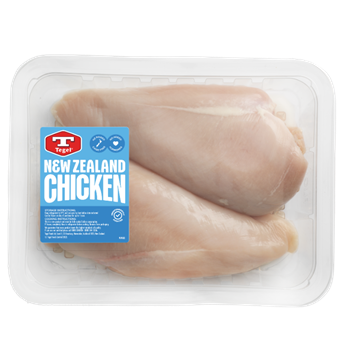 1 onion, finely chopped
2-3 cloves garlic, finely chopped
2/3 cup reduced salt chicken stock
1 1/2 (357ml) cans Lite Evaporated milk 
1/4 cup grated parmesan cheese
Bunch of spring onions, sliced on the diagonal
fresh pasta for 6 people
1-2 tablespoons corn flour dissolved in 1-2 tablespoons water
Method:
Cook the pasta in rapidly boiling, well-salted water until al dente. Drain and set aside.

While the pasta is cooking, add a splash of oil to a large frying pan over medium-high heat. Season the chicken generously with salt & pepper and cook for about 5 minutes until golden brown and cooked through. Remove from the pan and set aside.

In the same pan, cook the mushrooms for about 5 minutes, until golden brown, adding more oil as needed. Add the garlic and spinach and continue cooking until the garlic is fragrant and the spinach is wilted. Remove from the pan.

Pour in the stock to deglaze the pan. Add the cream, crème fraiche and parmesan and continue cooking for about 5 minutes.

Add the chicken, mushrooms, spinach & garlic back to the pan and mix together. Add the cooked pasta and toss to coat.

Serve the pasta with extra parmesan, chilli flakes and lots of freshly ground black pepper.
Tips for Creamy Chicken & Mushroom Pasta:
Rate this recipe
Share this recipe