Ingredients: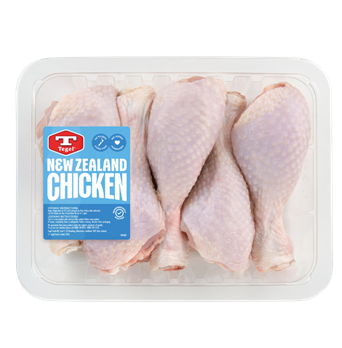 SHOP WITH MENUAID

2 lemons

4 sprigs fresh rosemary (or 2 tsp dried rosemary)

4 cloves garlic, finely chopped

4 medium sized potatoes, roughly chopped
Method:
Preheat oven to 200°C bake.

Zest and juice one of the lemons and add to a large mixing bowl. Roughly chop half the rosemary and add to the same bowl. Add the chopped garlic and a decent glug of olive oil. Season generously with salt & pepper and mix to combine.

Add the chicken drumsticks and toss to coat. Set aside to marinate for at least 30 minutes, or overnight for ultimate flavour.

Place the chopped potatoes in the bottom of an oven-proof dish. Nestle the marinated chicken drumsticks around the potatoes and drizzle over any remaining marinade. Slice the remaining lemon into thick rounds and add to the tray, along with the remaining rosemary sprigs.

Place in the oven for 35 - 40 minutes until the chicken is golden brown and cooked through.
Tip: For extra crispy potatoes, parboil them before adding to the pan.
Serve with: A green side salad
Rate this recipe
Share this recipe
You might also like

Related Recipes:

Related Products: