Ingredients: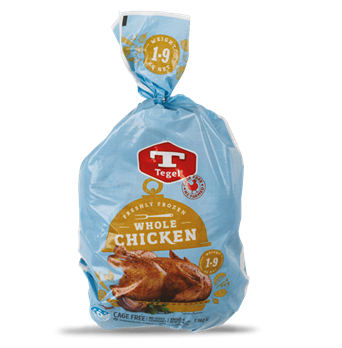 1 Tegel Frozen Whole Chicken, thawed 
½ white onion

½ lemon, cut in half

1 bunch thyme leaves

¼ cup olive oil

3 large agria potatoes, peeled and chopped

1 kumara, sliced in rounds

300g pumpkin, chopped into small wedge

4 baby carrots, cut in half lengthwise

1 red onion, sliced in thick rings

1 garlic head, sliced in half

1 small head broccoli, chopped into florets

Packet chicken gravy mix
Method:
Preheat the oven to 180°C.

Pat the thawed

Tegel Frozen Whole Chicken

dry with paper towels and then place the chicken in a roasting tin. Season the chicken all over with salt and pepper, including inside the cavity. Place the white onion, lemon and a few sprigs of thyme in the cavity and truss the legs with twine.

Drizzle olive oil generously all over the skin of the chicken then sprinkle over some thyme leaves.

Place the chicken in the oven and cook for 1 ½ hours total or until juices run clear when a skewer is inserted into the thickest part of the thigh.

Halfway through cooking, add the potatoes to the baking tray.

After an additional 15 minutes, add the kūmara, pumpkin, carrots, red onion and garlic. Make sure the vegetables are in a single layer and turn them once during cooking.

Toss the broccoli florets in a little oil and add to the baking tray for the last 15 minutes of cooking.

Once the chicken is cooked, transfer it to a serving plate, cover loosely with foil and allow to sit 10 minutes before carving. Let the roasting vegetables continue to cook in the oven while the chicken rests, if necessary.

Make 1 cup of gravy according to the packet instructions. You can use pan juices to make the gravy if you like.

Serve the chicken with the roasted vegetables and a jug of gravy.
Rate this recipe
Share this recipe