Ingredients: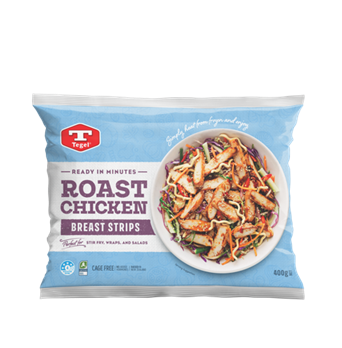 SHOP WITH MENUAID

3 capsicums, sliced
1 red onion, cut into wedges
4 zucchinis, cut into chunks
3 tablespoons olive oil
3 tablespoons fajita spice mix
1 avocado, cubed
1 spring onion, chopped
Juice of 1 lime, or half a lemon
To serve
Soft flour tortillas, grilled
Sour cream
Coriander leaves
Jarred jalapeños
Lime or lemon quarters
Method:
Preheat the oven to 220

°

C.

Line a large lipped baking tray with baking paper. Toss the Tegel Roast Chicken Breast Strips 400g, capsicums, onion, and zucchini with 2 tablespoons olive oil and the fajita spice mix. Season with salt and roast for 20 minutes, or until the vegetables and chicken are cooked through.
While the chicken is cooking, combine the avocado with the spring onion, lime or lemon juice and remaining olive oil. Season to taste.
To serve, spoon the chicken and vegetables into the flour tortillas, dollop with avocado salsa, sour cream, coriander leaves, jalapeños and lime quarters.
Rate this recipe
Share this recipe