Ingredients: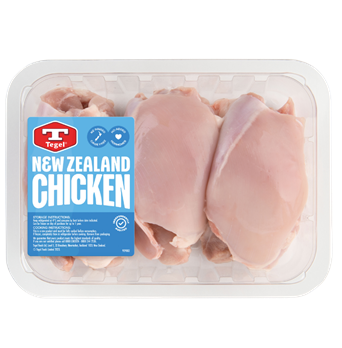 SHOP WITH MENUAID

Ingredients:
200g dried flat rice noodles – softened in boiling water and drained

200g Tegel Fresh Chicken Skinless Thighs

, thinly sliced

1 teaspoon cornflour

2 teaspoons soy sauce

3 cloves garlic, crushed

4 –5 stems gai lan (Chinese broccoli), separate the stems and leaves

1 egg
Stir fry sauce:
1 tablespoon soy sauce

1 tablespoon oyster sauce

2 teaspoons vinegar
To serve:
Lime wedges

Coriander

Chopped peanuts
Method:
Place the dried rice noodles in warm water and leave to sit until just softened and still al dente.  Drain and set aside.

Place the chicken, cornflour, soy sauce and garlic in a bowl and mix to combine. Leave to marinate for 5 – 10 minutes.

Make the stir fry sauce by mixing together the soy sauce, oyster sauce and vinegar.

Heat a thin-bottomed frying pan, or wok, to a high heat and add 1 tablespoon oil. Add the chicken and gai lan stems and stir fry until the chicken is golden and the gai lan is tender.

Push the chicken aside to free up some space in the pan and immediately crack the egg into it. Scramble with a fork and cook until set.

Add the noodles, gai lan leaves and stir fry sauce. Stir frequently to keep it moving around as all the ingredients get coated in the sauce.

Serve with lime wedges, coriander and chopped peanuts.
Cooks Tip: Make sure all the ingredients are prepared before cooking for quick and easy stir frying!
Tips for Bangkok-Style Chicken Noodles:
Rate this recipe
Share this recipe