Ingredients: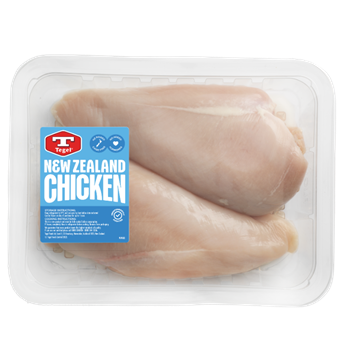 25g butter
300g Tegel Fresh Chicken Skinless Breast, chopped finely
1 large onion, chopped
2 cups chicken stock
2 medium potatoes, chopped
410g can whole kernel sweet corn, drained
2 tablespoons maize cornflour
2 cups milk
2 tablespoons chopped parsley
Fresh bread to serve
Method:
Heat the butter in a large saucepan. Add the

Tegel Fresh Chicken Skinless Breast

and cook over medium heat until golden. Remove from the pan and set aside.

Add the onion to the saucepan and cook for 3 to 4 minutes. Add the chicken stock and potatoes, cover and simmer for 15 minutes.
Mix the cornflour with a small amount of the milk, then stir in the remaining milk. Add this liquid to the soup mixture with the sweet corn and chicken. Reheat, stirring constantly, until the soup thickens. Season to taste and stir in the parsley. Add a little more milk if too thick for your liking.
Serve the chicken & sweet corn chowder with a sprinkle of fresh parsley and slices of fresh bread.
Rate this recipe
Share this recipe