Ingredients: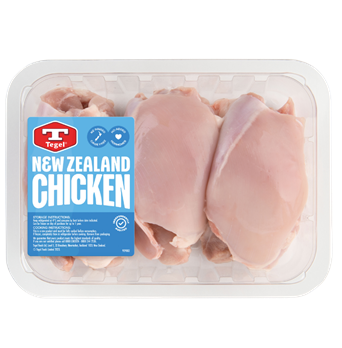 500g Tegel Boneless Skinless Chicken Thighs, cut in half

1 onion, very finely diced

1 thumb ginger, peeled & grated

2 cloves garlic, crushed

1 tablespoon garam masala

½ teaspoon turmeric

Pinch chilli flakes

1 tablespoon tomato paste

½ cup ground almonds

1 cup chicken stock

½ cup cream

Toasted sliced almonds, steamed rice, naan, coriander & natural yoghurt to serve (optional)
Method:
Add a splash of oil to a large fry pan over medium low heat and sauté the onion until very soft and translucent. Add the ginger and garlic and continue to sauté for a couple minutes.

Add the chicken and cook for 5 minutes until starting to get some colour. Season generously with salt & pepper.

Add the garam masala, turmeric and chilli flakes and toss until the chicken is well coated and the spices are fragrant.

Add the tomato paste and stir through the ground almonds.

Add stock and cream and simmer for 15 minutes.

Sprinkle over the toasted almonds and serve with rice, naan, fresh coriander and yoghurt.
Top tip: Make your Classic Chicken Korma dairy free by substituting the cream for coconut cream.
Rate this recipe
Share this recipe