Ingredients: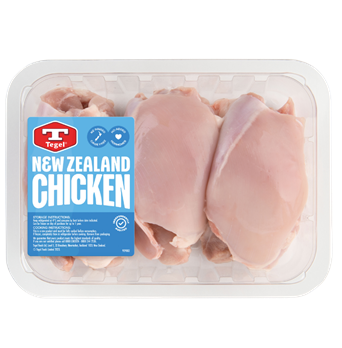 SHOP WITH MENUAID

Marinade:
5 cloves garlic, crushed
2cm ginger, finely grated
½ teaspoon paprika
1 teaspoon chilli powder
½ teaspoon salt
1 teaspoon each: ground coriander, cumin, turmeric and garam masala
2 teaspoons lime (or lemon) juice
1 cup natural yoghurt
2 tablespoons oil
4 Tegel Fresh Chicken Skinless Thighs, cut in half
Mahkani Sauce:
2 tablespoons butter (or ghee)
3 cloves garlic, peeled and chopped
1cm ginger, grated finely
1 teaspoon each: coriander, turmeric, garam marsala,
½ teaspoon chilli powder (or to taste)
½ teaspoon paprika
400g can crushed tomatoes
1 teaspoon lemon juice
25g unsalted butter
100ml cream
Fresh coriander to garnish
Naan, rice & yoghurt, to serve
Method:
 Marinade:
In a bowl, mix all of the marinade ingredients together.
Make deep gashes in the Tegel Fresh Chicken Skinless Thighs. Add them to the marinade, massaging it into the chicken to coat well. Leave for 1 hour, or overnight in the fridge.
Place a large frying pan or griddle pan over medium-high heat. Remove the chicken from the marinade, letting any excess drip off before adding to the pan. Cook until golden, about 5 minutes, then turn over and continue cooking until the chicken is almost cooked through. Lower the temperature if you need to, ensuring it is not too coloured as it continues to cook (a bit charred in places is fine as what we're trying to do is cook the chicken in a way that emulates as closely as possible the tandoor ovens of India).
Makhani Sauce:
In a large pot, melt the butter and add the garlic and ginger. Cook for 3-4 minutes. Add the spices and fry for a further few minutes, stirring occasionally. Add the tomatoes and lemon juice and bring to a simmer.
Add the chicken pieces and simmer for 10 minutes, or until the chicken is cooked through. Finally, stir in the butter and cream and season to taste. Garnish with chopped coriander and serve with warm naan, rice and yoghurt.
Tips for Dehli Style Butter Chicken:
Rate this recipe
Share this recipe