Ingredients: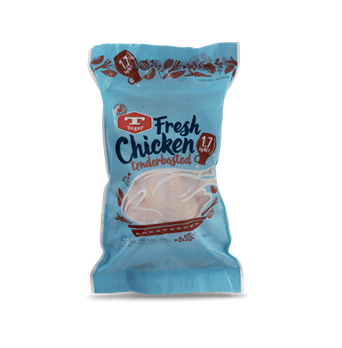 Hainanese chicken
1 whole Tegel chicken
3 x one inch ginger pieces, peeled
4 spring onions, roughly chopped
1/4 cup salt, used for poaching and seasoning + extra for rubbing
2 1/2 liters cold water, enough to sufficiently cover the chicken
2 tablespoons sesame oil
Fried ginger garlic mix
1/8 cup sesame oil
1/2 tablespoon garlic, minced
1 inch ginger, minced
Hainanese rice
1 teaspoon salt
1 1/2 cups jasmine rice, rinsed and drained
1 3/4 cup reserved chicken poaching broth
Ginger garlic sauce
2 tablespoons fresh garlic, minced
2 tablespoons ginger, minced
3 tablespoons peanut oil
1 1/2 tablespoons rice vinegar
Salt to taste
Chilli dipping sauce
1 tablespoon garlic, minced
1 tablespoon ginger, minced
2 tablespoons sriracha
2 tablespoons sambal
1 tablespoon lime juice
1 teaspoon sugar
1/8 cup reserved chicken poaching broth
Soy sauce glaze
1/8 cup reserved chicken poaching broth
2 1/2 tablespoons dark sweet soy sauce
1 1/2 tablespoons light soy sauce
1 1/2 tablespoons oyster sauce
Reserved fried ginger garlic mix
Method:
Rub the chicken with salt to remove any loose skin. Rinse well inside and out. Trim the excess fat from the chicken, set aside.

Stuff the chicken cavity with ginger and spring onions. Season generously with salt.

Place the chicken in a large stock pot. Fill the port with water, enough to comfortably cover the chicken. Season the chicken with salt. Bring the pot to a medium heat, enough for it to boil.

Once boiling, reduce the heat to low, cover and let simmer for approximately 20 minutes or until the internal temperature is 75oc. Once cooked, remove from heat and transfer to an ice bath to prevent further cooking.

Reserve the poaching broth, discard the ginger and spring onions.

Pat the chicken dry, rub the sesame oil over to stop the chicken drying out.

To make the fried ginger garlic mix, in a small pan heat sesame oil with excess chopped chicken fat. Add the ginger, garlic and salt. Fry for 10 minutes until aromatic. Set aside 1/4 of the mixture.

Cook the rice with your preferred method, using the excess chicken poaching water.

While the rice is cooking, make both the ginger garlic sauce and chilli dipping sauce. Add all ingredients together in separate bowls, stir to combine.

In another separate bowl, combine ingredients for the soy sauce glaze.

Carve the chicken, brush the skin with the soy glaze, and garnish with coriander.

Served the sliced chicken with rice and dipping sauces.
Rate this recipe
Share this recipe