Ingredients: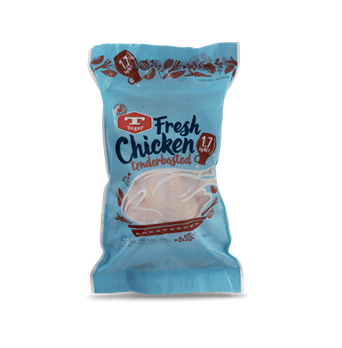 80g butter, softened
1 tablespoon wholegrain mustard
1 clove garlic, crushed
800g Agria potatoes
1 bunch thyme leaves
Method:
Preheat the oven to 220°C.

Place the softened butter, wholegrain mustard and garlic in a bowl. Season with salt & pepper and mix to combine.
Place the chicken in a roasting tray and carefully loosen the skin of the chicken at the breast with your fingers. Push half of the mustard butter mixture evenly under the skin. Season the chicken all over with salt and pepper, including inside the cavity, and truss the legs with kitchen string.
Cut the potatoes into wedges and arrange around the outside of the chicken. Drizzle with olive oil and season with salt and pepper.
Place the chicken and potatoes into the oven and immediately turn the heat down to 200°C. Roast the chicken for 1 hour and 20 minutes in total.
Mix the honey into the remaining mustard butter, adding extra mustard if needed. When the chicken has about 15 - 20 minutes left of roasting time, brush the honey mustard all over the chicken and sprinkle the thyme leaves over the potatoes. Continue roasting until cooked through and perfectly golden.
Leave the chicken to rest for about 10 minutes before carving and serving with the potato wedges and a seasonal side salad.
Tips for Honey Mustard Roast Chicken:
Rate this recipe
Share this recipe