Ingredients: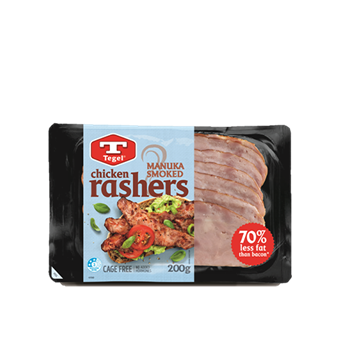 Ice cream base
3/4 cup fresh full cream milk

1 egg, size 6

1/4 cup castor sugar

4 tablespoons maple syrup

2 tablespoons chicken fat (optional)

Starch slurry
2 tablespoons corn starch
4 tablespoons water

Gelatine solution
1 teaspoon powdered gelatine

1 1/2 tablespoons boiling water
Maple ripple
1/2 cup and 2 tablespoons maple syrup
3 1/2 tablespoons corn starch
1/2 cup water
Extras
2 slices Tegel chicken rashers, grounded into a powder

2 slices Tegel chicken rashers, sliced into fine pieces

600ml fresh cream, at 4

o

c

1/4 teaspoon vanilla extract
Method:
Chill or freeze a large mixing bowl.
Weigh all ingredients out.
In a clean stainless steel medium bowl combine fresh milk, egg, sugar, maple syrup and chicken fat.
Transfer mixture into any large pan you have. Cook it on a medium heat while continuously stirring for at least 2 minutes.
Make the starch slurry by combining the corn starch and water together in a small bowl.
Prepare the gelatine solution. Pour hot water into the powdered gelatine in another small bowl.
Add both the starch slurry and gelatine solution into the pan. Mix continuously for a minute.
Using a thermometer check the temperature, the mixture needs to reach 75 oc. As soon as the mix is the right temperature and has started to thicken, remove from the heat.
Place the pan into an ice bath until it reaches 4 oc. Set aside in the fridge.
To make the maple ripple measure all the ingredients, put them in a thick bottom sauce pan.
On a medium heat, cook mixture, stirring continuously until it thickens. Transfer into a clean container, set aside and allow to cool.
Cook the chicken bacon until golden and crispy.
Grind the chicken bacon into a powder-like consistency. Thinly slice the other 2 slices of bacon. Set aside.
Using the bowl set aside in the freezer, whisk the cream which is at 4 oc. An electric whisk is preferred. Beat on medium speed for 2-3 minutes or until the cream is slightly thick.
Add the vanilla extract and continue mixing. Then add the chilled ice cream base mix. Make sure to add it in a slow and steady stream at a medium speed for 1-2 minutes.
Once combined, increase the speed to high and whisk until the mixture becomes very light and doubles in volume.
Fold in the powdered and finely chopped bacon until evenly distributed.
Transfer into a freezer safe container, layer the ice cream and cooled maple ripple.
Freeze over night or until hard enough for the ice cream to be scooped and serve.
Optional: serve with extra bacon powder, maple syrup, pancakes or waffles.
Keep this mixture frozen at -18 oc in an air tight container.
Rate this recipe
Share this recipe
You might also like

Related Recipes: