Ingredients: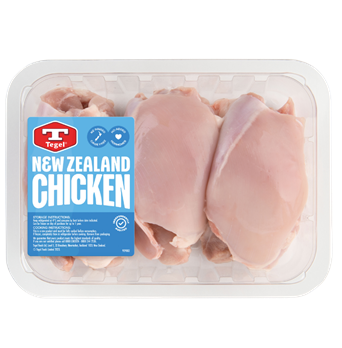 1 large coriander plant, with roots
1-2 tablespoons green curry paste
2 stalks lemon grass, chopped or 2 Tbsp lemon grass paste
1 1/2 cups coconut cream
250g green beans
1-2 chillies, deseeded and chopped (optional)
1/2 cup basil leaves, coarsely chopped
1 tablespoon fish sauce
Steamed rice - to serve
Method:
Cut the Tegel Fresh Chicken Skinless Thighs into 2.5cm cubes.
Remove the leaves from the coriander and set aside. Finely chop the stalks and roots.
Heat a dash of oil in a wok or saucepan and gently stir-fry the curry paste for 1-2 minutes. Add the lemon grass.
Slowly add 1 cup of the coconut cream, stirring continuously. Add chicken, chillies(if using), coriander roots and stalks.  Simmer for 20 minutes, adding more coconut cream if needed.
Just before serving add the basil and coriander leaves and fish sauce. Garnish with extra chilli slices and serve with rice & steamed greens.
Rate this recipe
Share this recipe