Ingredients: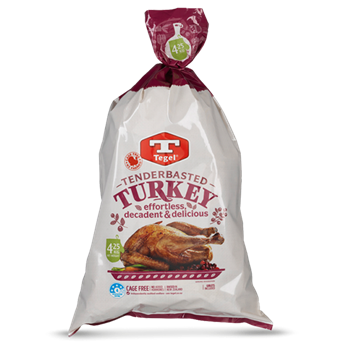 ¼ cup rice wine
¼ cup soy sauce
3 cloves garlic, finely chopped
1 tablespoon grated ginger
1 teaspoon Chinese five-spice
½ cup Hoisin sauce
1 tablespoon brown sugar
1 tablespoon soy sauce
2 teaspoons grated ginger
1 clove garlic, finely chopped
1 teaspoon Chinese five-spice
2 limes, halved (optional)
Asian Slaw: 
4 handfuls finely chopped green cabbage
4 spring onions, sliced
1 medium carrot, finely sliced
4 radishes, sliced
1/4 cup chopped coriander
1/4 cup mint leaves
2 teaspoons black sesame seeds
Dressing
2 tablespoons neutral flavoured oil
2 teaspoons sesame oil
2 tablespoons rice vinegar
1 tablespoon soy sauce
2 teaspoons sweet chilli sauce
1 teaspoon honey
1 garlic clove, crushed
Method:
Remove the giblets and neck from the turkey cavity.
Place the turkey on a board, breast side down. Using a sharp knife or strong kitchen scissors cut along either side of the back bone from the tail up to the neck and remove.   
Turn the turkey over and press firmly on the breast to flatten the turkey out as much as possible.
Place the turkey in a baking dish with the rice wine, soy sauce, garlic, ginger and 1 teaspoon of five-spice. Refrigerate for up to 8 hours.
Heat a BBQ hot plate to approximately 180°C.
Drizzle a little oil on the hot plate, lift the turkey from the marinade and cook for approximately 2 ½ hours, turning at times, until the turkey is well coloured and the thigh juices run clear when pierced with a skewer.
While the turkey is cooking combine the hoisin sauce, brown sugar, soy sauce, ginger, garlic and five-spice together in a small bowl. Brush the skin of the turkey with the hoisin glaze during the last 30 minutes of cooking, taking care not to let it burn.
Grill lime halves - if using - until just soft and well coloured.
Serve turkey with fresh herbs, limes and an Asian style slaw.
Asian Slaw: 
Toss cabbage, spring onions, carrot, radishes, coriander, mint leaves and sesame seeds together in a large bowl.
Drizzle with combined dressing ingredients.
Tips for Asian Style Butterfly Turkey :
Rate this recipe
Share this recipe