Ingredients: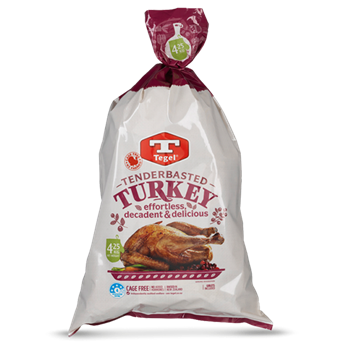 3 tablespoons olive oil
1 red onion, finely chopped
2 cloves garlic, crushed and chopped
1 stalk celery, finely chopped
3 slices streaky bacon, finely chopped
2 cups fresh breadcrumbs
finely grated zest of 1 lemon
2 teaspoons fresh thyme leaves
¼ cup chopped parsley
1 cup full fat Greek yoghurt
salt and freshly ground black pepper
50g butter, softened
2 cloves garlic, finely chopped
2 teaspoons thyme leaves
1 Tegel Whole Frozen Turkey - Various Sizes, thawed

Stuffing quantity enough for up to a 6kg turkey. 
Method:
Heat a generous film of oil in a large frying pan and gently cook the red onion, garlic, celery and bacon for 10 minutes or until the onion and celery are almost tender.
Remove the pan from the heat and then mix in the breadcrumbs, lemon zest, thyme and parsley. Stir the yoghurt into the pan and season with salt and pepper.
Mix the 50g butter, garlic and thyme together in a small bowl.
Remove the giblets and neck from the turkey cavity and set aside. Pat the turkey dry with paper towels.
Carefully slide the garlic and thyme butter under the skin of the bird and also rub butter over the skin.
Spoon the stuffing into the turkey cavity, secure the legs, place breast side up in a large roasting dish and cook as per package instructions.
Brush the turkey with any leftover butter at times during cooking.
Tips for Thyme, Garlic & Lemon Roast Turkey:
Rate this recipe
Share this recipe