Ingredients: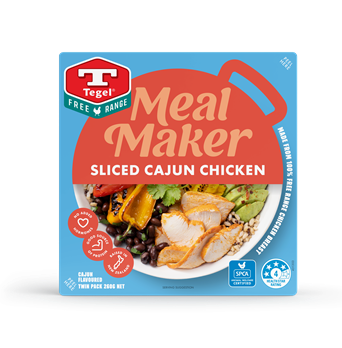 4 cups cooked white rice

Zest and juice of 2 limes

 

1 teaspoon ground coriander

1 cup chopped fresh coriander

2 capsicums – use a mix of colours!

1 avocado, diced

Extra lime wedges, sliced green chilli & extra coriander to serve
Method:
Place the cooked rice, lime juice, lime zest, ground coriander & fresh coriander in a bowl, season with salt and toss to combine. Evenly distribute between 4 serving bowls.

Heat a splash of oil in a large frypan or griddle pan over high heat. Add the sliced capsicum, season with salt and grill until just tender and lightly charred, about 3 minutes. Add a small pile to each serving bowl.

Finally, add the Cajun chicken to the same pan to quickly warm through and lightly grill. Top each bowl with the grilled Cajun chicken and a handful of diced avocado.

Finish with a squeeze of lime and a sprinkle of green chilli & coriander.
Rate this recipe
Share this recipe
You might also like

Related Recipes:

Related Products: