Ingredients: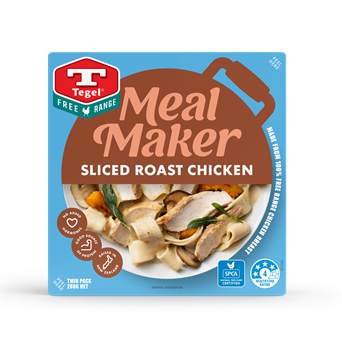 SHOP WITH MENUAID

400g dried jumbo pasta shells

2 cups alfredo pasta sauce

2 cups grated mozzarella

1 cup cream
Method:
Add the pasta shells to a large pot of boiling salted water. Cook until just al-dente (a couple minutes less than the package instructions).

Drain under cool running water, then set aside with a splash of oil mixed in (this will stop the pasta shells from sticking).

To make the filling, place the roast chicken in a bowl with 1 ½ cups cheese, ½ cup cream and ½ cup alfredo sauce. Season generously with salt and pepper and mix to combine.

In a separate bowl, whisk together the remaining alfredo pasta sauce and cream.

Pour half of the sauce in the bottom of a medium sized baking dish.

Stuff the pasta shells with the chicken filling and place in the dish with the sauce. Pour over the remaining sauce and sprinkle over the remaining cheese.

Bake in the oven at 180°C for 20 minutes, until the cheese is golden and bubbling.
Tip: Add 1 cup of peas or baby spinach for extra greens!
Tip: If you can't get jumbo pasta shells, this recipe works great as a pasta bake with any type of dried pasta! Simply mix all the ingredients together and bake in the oven.
Rate this recipe
Share this recipe