Ingredients: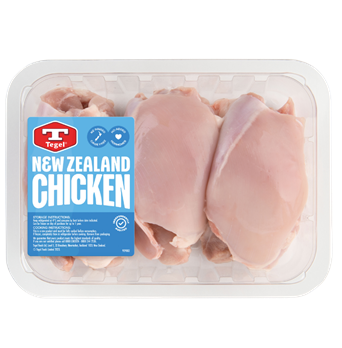 SHOP WITH MENUAID

700g baby potatoes
2-3 tablespoons plain flour
2 cloves garlic, crushed
3 tablespoons grainy mustard
1 tablespoon fresh thyme leaves, plus extra to serve
1 cup cream
½ cup stock
Method:
Preheat oven to 180°C.
Place the potatoes in a pot and cover with cold, salted water. Bring to the boil and cook for about 5 minutes until just tender. Drain and transfer to an oven-proof dish.
Place the Tegel Fresh Chicken Skinless Thighs on a board or plate and dust lightly with flour. Heat a dash of oil in a frying pan. Place the chicken in the pan and cook for 2-3 minutes per side, or until lightly browned. Place the chicken thighs on top of the potatoes.
Add the garlic to the frying pan and gently sauté until fragrant before adding the mustard and thyme leaves. Add the cream and stock and bring to a simmer. Pour the cream mix over top of the chicken and potatoes.
Bake for approximately 25 minutes until bubbling and golden. Garnish with extra thyme leaves and serve immediately.
Recipe 'made over' by Simon Holst.
Rate this recipe
Share this recipe