Ingredients: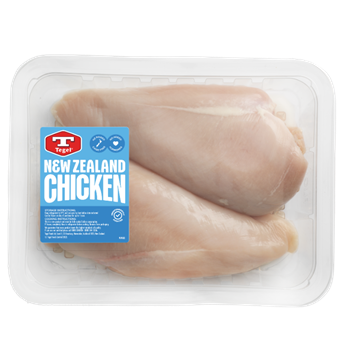 5 cups chicken stock

400g Tegel Fresh Chicken Skinless Breast, cut into cubes

1 tablespoon olive oil

10g butter

1 onion, finely chopped

2 cloves garlic, crushed

1 celery stalk, chopped

1 ½ cups Arborio rice

1 lemon, zest & juice

½ cup dry white wine

1 bunch asparagus, cut into pieces

2 tablespoons chopped parsley

1/4 cup finely grated parmesan, plus extra to serve
Method:
Place the stock into a saucepan and bring to the boil. Turn the heat down to very low so the stock stays hot.

Heat the olive oil and butter in a large frying pan. Add the Tegel Fresh Chicken Skinless Breast and brown over medium heat until cooked. Remove the chicken and set aside.

Add the onion, garlic and celery to the pan and season generously with salt & pepper. Cook over low heat for 5 minutes. Add the rice and lemon zest. Cook for around 1 minute over medium heat to absorb. Add the wine and cook for a further 2 to 3 minutes, stirring, until the wine has evaporated.

Reduce the heat to low and stir constantly, adding a ladle full of hot stock at a time as the liquid is absorbing. After 15 to 20 minutes, taste the rice to check if it's cooked.

Meanwhile, bring a medium saucepan of lightly salted water to the boil. Add the asparagus and cook for 2 to 3 minutes or until tender. Drain.

Once the rice is cooked, add the chicken and asparagus and cook for a further 3 to 4 minutes, or until the chicken is heated through. Add extra stock as necessary.

Remove the risotto from the heat and stir in the parsley, lemon juice and parmesan. Cover and stand for 2 minutes for the flavours to further infuse. Serve immediately with extra parmesan cheese.
Rate this recipe
Share this recipe