Ingredients: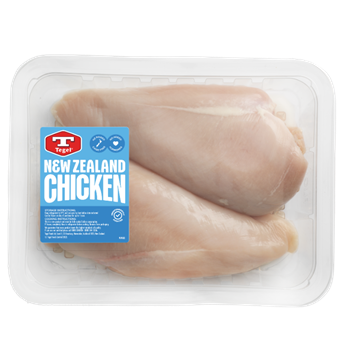 500g Tegel Fresh Chicken Skinless Breast, sliced thinly
1 onion, finely chopped
1 clove garlic, crushed
1 green pepper, deseeded and finely chopped
1 teaspoon ground cumin
400g can Mexican style tomatoes
1/4 cup water
1/4 cup tomato puree
12 corn or flour tortillas
1 cup grated tasty cheese
Fresh corn & avocado salsa and sour cream to serve
Method:
Preheat the oven to 180°C.
Heat a dash of olive oil in a frying pan. Add the Tegel Fresh Chicken Skinless Breast  and brown over medium heat. Remove the chicken and set aside.
Add the onion, garlic and green pepper to the pan and cook over medium heat until the onion is soft. Add the ground cumin and cook for a further minute. Add the Mexican tomatoes, water and tomato puree and bring to the boil. Simmer for 2 minutes.
Place half of the tomato mixture into a bowl and set aside.
Add the chicken to the pan and simmer for 4 to 5 minutes or until the chicken is just cooked.
Spread some of the reserved sauce onto each tortilla then place 2 to3 tablespoons of the chicken mixture on one end. Roll up and place in a lightly greased oven proof dish. Pour the remaining sauce on the top of the enchiladas then sprinkle with the grated cheese. Bake for 15 to 20 minutes or until the top is golden and the enchiladas are heated through.
Serve with a fresh salsa & sour cream on the side.
Tips for Chicken Enchiladas:
Rate this recipe
Share this recipe