Ingredients: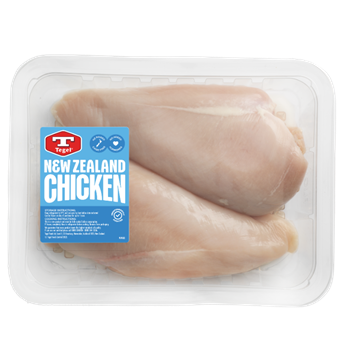 150g dried rice stick noodles
1 teaspoon sesame oil
1 tablespoon light cooking oil (rice bran is good)
2 teaspoons minced garlic
1 teaspoon fish sauce
1 teaspoon minced chilli (or I fresh red chopped fine)
2 teaspoons minced ginger
2 spring onions, chopped, green bits and all
2 L chicken or vegetable stock
450g Tegel Fresh Chicken Skinless Breast, cut into thin strips
2 tablespoons fresh coriander leaves, to garnish
Extra fresh chilli to garnish
Bean sprouts to garnish (optional) 
Method:
Put your rice noodles into a bowl and pour boiling water over them to cover and stand for 15 minutes to soften.
Heat the sesame and cooking oils in a large saucepan. Add the garlic, chilli, ginger and spring onions and cook over a low heat until onions have softened but not browned. 
Add the stock and fish sauce and bring to a simmer.  Once the stock is gently simmering add the chicken to essentially poach in the stock. This will take about 8-10 minutes. Skim off any fat or other "scum" that rises to the surface of your broth to ensure that you have a nice clear broth.
Drain the rice noodles and add these to 4 deep bowls. Add chicken to each bowl and then pour in the chicken broth. Garnish with coriander, extra chilli, bean sprouts to taste. 
Tips for PHO GA – Vietnamese Chicken Noodle Soup :
Rate this recipe
Share this recipe