Ingredients: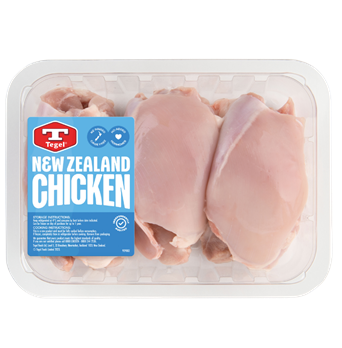 1/4 cup soy sauce
1/4 cup sweet chilli sauce
1 clove garlic, crushed
1 teaspoon crushed ginger
2 teaspoons corn flour
400g Tegel Fresh Chicken Skinless Thighs, cut into strips
1 onion, finely sliced
3-4 cups stir fry vegetables (we used broccolini, capsicum and spring onions)
1/3 cup roasted cashew nuts

To Serve: Cooked rice or noodles to serve.
Method:
To make the stir fry sauce, place the soy sauce, sweet chilli sauce, garlic, ginger and corn flour in a bowl and whisk to combine. Set aside.

Heat a dash of oil in a wok or frying pan on a high heat until hot. Add the Tegel Fresh Chicken Skinless Thighs and cook until golden, about 6 minutes. Remove from the pan and set aside.

Add a splash of oil to the pan and cook the onion until fragrant, about 1 minute. Add the remaining vegetables to the pan and stir fry, until tender and vibrant in colour, about 3 minutes. Add the stir fry sauce and the chicken back to the pan and continue to cook for about 3 minutes.

Remove from heat and toss through the cashew nuts.

Serve with rice or noodles.
Rate this recipe
Share this recipe