Ingredients: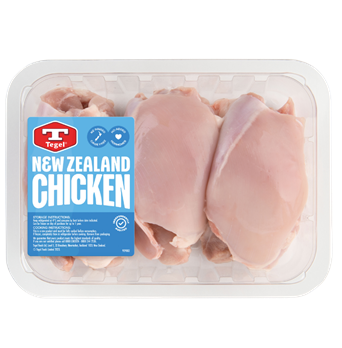 1 tablespoon fresh oregano (or 1 teaspoon dried oregano), plus extra to serve

8 Tegel Fresh Chicken Skinless Thighs, flattened

8 slices prosciutto

500g agria potatoes, thinly sliced on a mandolin

1 clove garlic

½ cup cream

½ cup chicken stock

1 tablespoon wholegrain mustard
Method:
Preheat oven to 200°C fan bake.

Sprinkle a little oregano over Tegel Fresh Chicken Skinless Thighs and season with salt and pepper. Roll up, pinwheel style.

Lay a slice of prosciutto on the board and place a rolled chicken thigh at one end. Roll to enclose the thigh in the prosciutto. Repeat with the remaining prosciutto and chicken pieces.

Heat a splash of olive oil in a large frying pan over medium-high heat. Brown the chicken parcels on all sides until golden brown, remove from pan and set aside.

Add the garlic to the frying pan and sauté until fragrant. Add the potatoes and gently toss to coat with the garlic. Pour over the cream, stock and wholegrain mustard and bring to a simmer for 10 minutes.

If using an oven-proof pan leave the potatoes in the pan, or alternatively transfer them to an oven-proof dish. Place the chicken parcels back on top of the potatoes and place in the oven to bake for 30 minutes until golden and bubbling. Leave to rest for 5 minutes before serving with a sprinkle of fresh oregano.

 
Tips for Chicken Thighs with Oregano and Prosciutto:
Rate this recipe
Share this recipe