Ingredients: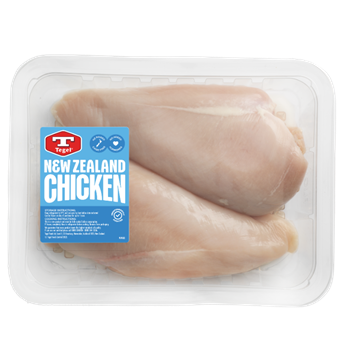 2 tablespoons olive oil
6 x 150g Tegel Fresh Chicken Skinless Breast
2 tablespoons flour
2 cloves garlic, sliced
25g butter
2 tablespoons chopped fresh tarragon, plus extra to serve
1 teaspoon Dijon mustard
1 teaspoon lemon juice
¼ cup dry white wine (optional)
½ cup cream
Method:
Heat the oil in a pan until moderately hot. Add the Tegel Fresh Chicken Skinless Breast. Cook on each side until golden brown. Remove from the pan and set aside on a plate.
Add the butter and garlic to the pan and continue cooking for 4-5 minutes until fragrant. Add the tarragon, mustard, lemon juice and wine to the pan. Allow to simmer for about 2 minutes, until most of the wine has evaporated.
Stir in the cream and allow to simmer for 5 minutes. Add the chicken back to the pan and allow the sauce to thicken for about 10-15 minutes, basting the chicken breasts a few times. Check that the chicken is cooked through. Season to taste before serving.
Tips for Chicken with Tarragon and Cream Sauce:
Rate this recipe
Share this recipe