Ingredients: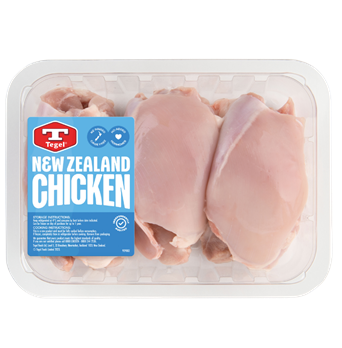 400g Tegel Fresh Chicken Skinless Thighs, sliced in thin strips

¼ cup soy sauce

½ cup sweet chilli sauce

2 cloves garlic crushed

1 tablespoon rice wine vinegar

1 red chilli, sliced

200g snow peas, trimmed

Sesame seeds, Thai basil and steamed jasmine rice to serve
Method:
Combine soy sauce, sweet chilli sauce, garlic and vinegar in a large bowl. Add the sliced chicken thighs and season with salt and pepper. Stir well to coat, then set aside to marinate for 15 minutes.

Heat a splash of oil in a large fry pan or wok over medium high heat. When the oil is hot and shimmering, remove the chicken from the marinade and add to the pan. Stir fry for about 5 minutes until golden and caramelised.

Add the remaining marinade to the pan with the sliced red chilli and snow peas and continue to stir fry for 3 minutes until the peas are tender and the sauce has thickened slightly.

Garnish with sesame seeds, basil leaves and serve with steamed rice.
Top tip: Get creative and substitute snow peas for your favourite seasonal greens. Try broccoli, green beans or bok choy!
Rate this recipe
Share this recipe