Ingredients: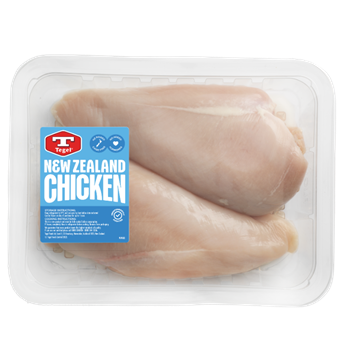 Poached Chicken:

1 cup coconut milk

3 cups stock

1 lime, zest & juice

3 cloves garlic, smashed 

1 tablespoon soy sauce
Dressing:
2 tablespoons lime juice
2 tablespoons palm sugar
1 tablespoon fish sauce
1 tablespoon rice vinegar
Salad:
200g vermicelli rice noodles
1 carrot, peeled, cut into matchsticks
1 cup snow peas, sliced
1 cup fresh herbs - coriander & mint + extra to serve
Toasted peanuts & fried shallots to garnish
Method:
Place the coconut milk, stock, garlic, soy sauce, and lime zest & juice into a large saucepan and mix together. Lower the Tegel Fresh Chicken Skinless Breast into the poaching liquid, then place over a medium heat. Bring to a rolling simmer and let cook for about 12 minutes until cooked through. Remove from the poaching liquid and set aside to cool. Reserve ¼ cup of the poaching liquid.

Cook the rice noodles until tender, as per packet instructions.

Once the noodles are cooked, drain and mix with chopped herbs, snow peas & carrots.

To make the dressing, place all the ingredients into a bowl and mix to combine.

Using 2 forks, shred the poached chicken and place in a bowl with the reserved poaching liquid. Combine.
Tips for Coconut Poached Chicken Noodle Salad:
Rate this recipe
Share this recipe