Ingredients: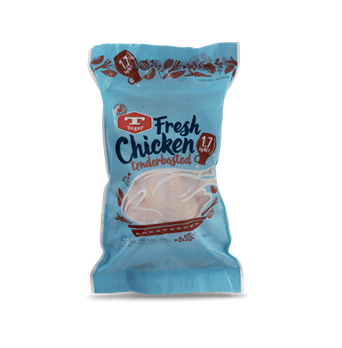 ¼ cup butter, softened

        

1 lemon, zest & juice

        

2 cloves garlic, crushed

        

1 brown onion, cut in half

        

2 bunches asparagus
For the lemon & thyme dressing:
        

1 lemon, zest & juice

        

1 tablespoon thyme leaves, freshly chopped

        

2 teaspoons Dijon mustard

        

¼ cup extra virgin olive oil
Method:
Place the chicken in a roasting dish and season generously all over, including inside the cavity with salt & pepper.

In a bowl, mix together the butter, lemon zest & garlic. Rub the lemon butter all over the chicken, as well as under the skin of the breast.

Squeeze the juice of the lemon inside the chicken cavity and place inside along with the onion. Truss the legs with cooking twine.

Roast the chicken in the oven as per packet instructions.

While the chicken is roasting, place all the dressing ingredients into a bowl and whisk to combine.

When the chicken is ready, remove from the oven and place on a serving platter to rest.

While the chicken is resting, place the asparagus in the roasting dish and toss to coat in the drippings. Place in the oven for about 5 – 10 minutes until just cooked through and still tender.

Place the asparagus on the serving platter with the chicken and drizzle over the lemon & thyme dressing. Sprinkle the shaved parmesan over the asparagus and serve immediately.
Tips for Lemon & Asparagus Roast Chicken:
Rate this recipe
Share this recipe