Ingredients: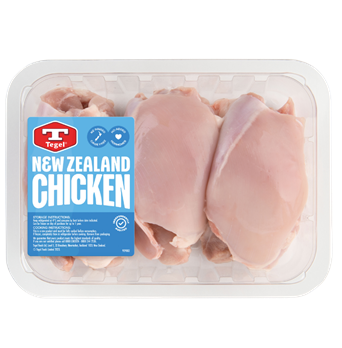 4 Tegel Fresh Chicken Skinless Thighs, each cut into about 8 pieces
3 tablespoons soy sauce
2 tablespoons sake
3cm fresh ginger, grated finely
Oil for deep frying (rice bran)
1 cup potato flour
Lemon wedges, to garnish
Japanese mayonnaise, to garnish
½ teaspoon togarashi, to garnish
Method:
Pat Tegel Fresh Chicken Skinless Thighs pieces dry. Add to a bowl and marinate in the soy sauce, sake and fresh ginger for at least 10 minutes (longer is fine).
On medium heat, heat oil in a wok or small deep pan suitable for frying.
Drain the marinade off the chicken and toss it in the potato flour to coat. Shake off any excess before frying the pieces in batches, being careful not to overcrowd the cooking vessel. Fry until the chicken is crispy and cooked through – about 4-6 minutes.
Serve with a drizzle of Japanese mayonnaise and a sprinkle of togarashi.
Tips for Karaage Style Fried Chicken:
Rate this recipe
Share this recipe