Ingredients: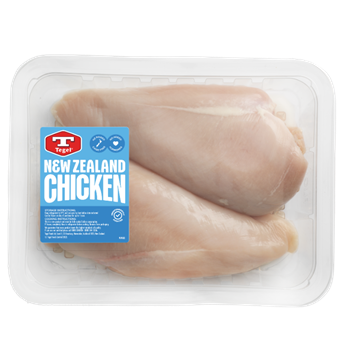 1 large head cauliflower, cut into florets

2 tablespoons butter

¼ cup cream

2 eggs

1 tablespoons Dijon mustard

1 cup ground almonds

½ cup grated parmesan

Extra virgin olive oil to fry

Small handful of sage leaves

1 cup cherry tomatoes
Method:
Steam the cauliflower in the microwave or on the stove top for about 15 minutes until completely soft and falling apart. Add to a food processor with the butter and cream and blitz until smooth. Season with salt & pepper. Set aside.

Carefully slice your chicken breasts in half horizontally so that you have 4 thin even pieces.

Whisk the eggs and mustard together in a bowl.

Place the ground almonds and parmesan in a shallow dish and mix to combine.

One at a time, dip the chicken pieces into the egg wash letting any excess drip off, dip in the parmesan mix and use your hands to firmly pack the mixture on to the chicken. Very gently shake off any excess crumb and repeat with remaining chicken.

Heat 1cm of oil in a large fry pan over medium heat. Working in batches, cook the chicken for about 4-5 minutes each side until golden brown and cooked through. Gently flip with a spatula to avoid any of your crumb coming away from the chicken.

When the chicken is cooked, drop your sage leaves into the oil for a couple seconds until crisp. Remove and set aside.

Add your tomatoes to the pan and sauté until beginning to soften and blister.

Serve your parmesan crusted chicken on top of the cauliflower mash. Drizzle over the cherry tomatoes and some of the oil from the pan and scatter over the crisp sage leaves.

 
Top tip: Instead of frying, you can bake your chicken in the oven at 200°C for 20 minutes, flipping halfway through cooking.
Rate this recipe
Share this recipe