Ingredients: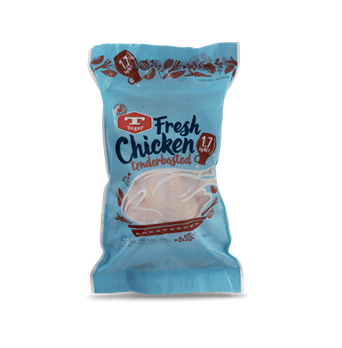 2 - 3 lemons, cut in half or wedges
2 tablespoons olive oil

Salsa verde
2 tablespoons capers

2 anchovy fillets

1 large handful of parsley or rocket leaves

2 teaspoons mustard (grainy or dijon)

Pinch of chilli flakes

1 tablespoon red wine vinegar

¼ cup olive oil
Method:
Preheat the oven to 180°C.
Place the chicken breast side down on a clean chopping board. Using sharp kitchen scissors, cut closely along each side of the backbone. Remove and discard the backbone (or save it for your next stock). Flip the chicken over, and press down firmly on the breastbone to flatten the chicken.
Place the lemon halves in a baking tray. Place the chicken on top, drizzle with olive oil and season with salt & pepper.
Place in the oven to roast for 35 – 40 minutes until the skin is golden and the chicken is cooked through.
While the chicken is roasting, make the salsa verde. Finely chop the capers, anchovies & herbs and mix in bowl with the mustard, chilli flakes, vinegar & olive oil.
When the chicken is ready, let rest for 10 minutes before carving and serving with the salsa verde and cooked lemon. 
Tips for Lemon Butterflied Chicken with Salsa Verde:
Rate this recipe
Share this recipe