Ingredients: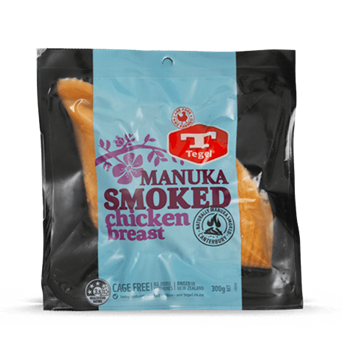 4 large fresh corn cobs*
1 tablespoons oil
2 large handfuls of rocket
1 red onion, finely sliced
1 punnet cherry tomatoes, halved or quartered
2 avocados, chopped
1 cup coriander leaves
1/4 cup extra virgin olive oil
Juice from 1 lime
*If fresh corn cobs are not available you can use frozen
Method:
Strip husks from the corn, brush with oil and then barbecue or cook on a hot plate until the corn starts to colour and gets dark brown flecks. Remove the corn from the heat.
When cool enough to handle, scrape the kernels from the cob using the back of a heavy knife.
Slice the Tegel Manuka Smoked Chicken Breast - Original 300g into bite size pieces and then combine on a large platter with the rocket, onion, tomatoes, corn, avocado and coriander.
Combine oil and lime juice, and season with salt and freshly ground black pepper. Drizzle over the salad.
Rate this recipe
Share this recipe