Ingredients: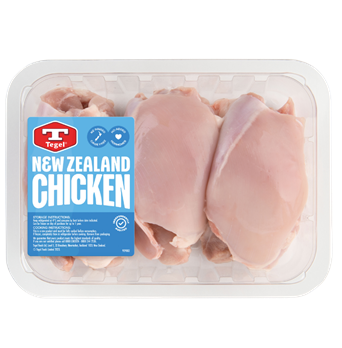 1 bunch broccolini, trimmed
3 tablespoons basil pesto, plus extra to serve
1/4 cup basil leaves, plus extra to serve
1/2 cup fresh bread crumbs
1/4 cup grated parmesan
1 clove garlic, crushed
2 tablespoons pine nuts
2 teaspoons extra virgin olive oil
Method:
Preheat oven to 180°C.

Place the broccolini in the bottom of a baking dish. Drizzle with olive oil and season with salt & pepper.
Lay the 8 8 Tegel Fresh Chicken Skinless Thighs out flat. Smear with basil pesto and top with a layer of basil leaves. Roll up and place on top of the broccolini.
Combine the breadcrumbs, parmesan, garlic, pine nuts and olive oil and scatter over the thighs. Bake for 30 – 35 minutes until the chicken is cooked through and the breadcrumbs are golden.
Sprinkle over extra basil leaves and a drizzle of pesto, serve immediately.
Tips for Pesto & Basil Stuffed Chicken Thigh Fillets:
Rate this recipe
Share this recipe