Ingredients: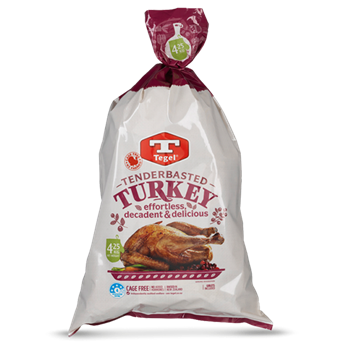 For the stuffing:
50g butter
1 large onion, chopped
2 celery sticks
6 rashers streaky bacon
1 tablespoon finely chopped thyme leaves
1 teaspoon cumin seeds
¼ teaspoon ground cinnamon
4 cups fresh breadcrumbs (approx ½ loaf white bread blitzed in food processor)
½ cup walnuts, roughly chopped
½ cup dried cranberries
Grated zest of 1 orange
¼ cup chopped parsley
2 eggs, lightly beaten
For the turkey:
80g butter, softened
1 cup chicken stock or water
Method:
Heat the butter in a frying pan and gently fry the onion, celery and bacon until the onion is soft. Add the thyme, cumin seeds and cinnamon and cook for a minute. Remove from the heat and allow to cool. Mix with the breadcrumbs, walnuts, cranberries, orange zest, parsley and egg. This can be made a day ahead.

Remove the giblets and neck from the turkey cavity and set aside (you can use these to make a stock or gravy). Pat the turkey dry with paper towels.
Spread the soft butter all over the turkey and underneath the skin and season with salt & pepper.
Spoon the stuffing loosely into the turkey cavity. Tie up the legs and tuck the wings under the bird. Roll any extra stuffing into small balls and cook alongside the turkey for the final hour of roasting.
Put the turkey in a roasting dish, breast side up and pour the chicken stock or water into the bottom of the tray. Tent loosely with foil and cook according to packet directions (size determined), removing the foil half way through cooking. Baste the turkey regularly with liquid from the roasting dish.
Once cooked, cover and allow to rest for 20 minutes before carving.
Tips for Roasted Turkey with Cranberry, Bacon & Spiced Walnut Stuffing:
Rate this recipe
Share this recipe