Ingredients: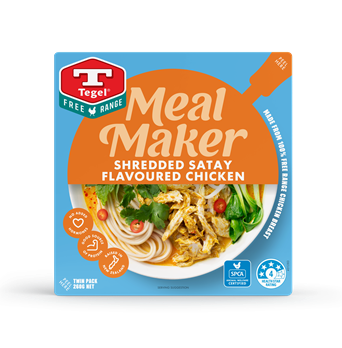 SHOP WITH MENUAID

4 cups cooked jasmine rice or coconut rice

2 cups finely sliced red cabbage

½ telegraph cucumber, peeled in ribbons

1 cup mung beans

2 carrots, juilenned or peeled in ribbons

Mint, sliced spring onions and crushed peanuts to serve
      Satay sauce:
½ cup smooth peanut butter

¼ cup coconut milk

1 clove garlic, crushed

1 teaspoon crushed ginger

1 tablespoon soy sauce

1 teaspoon honey

1 teaspoon chilli paste (optional)
Method:
To make the satay sauce add all the ingredients to a bowl and whisk to combine. If necessary, add hot water one teaspoon at a time, until you reach the desired consistency.

To assemble, evenly divide the rice between 4 bowls. Top with small piles of cabbage, julienned carrot, mung beans and cucumber ribbons. Top each bowl with the shredded satay chicken. Finish with an extra drizzle of satay sauce and a sprinkle of mint, spring onions and crushed peanuts.
      Tip: For an extra quick and easy meal, use your favourite store bough satay sauce!
Rate this recipe
Share this recipe
You might also like

Related Products: