Ingredients: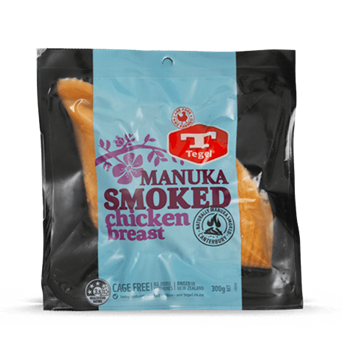 1/2 cabbage (can use Savoy, regular or a mixture of both)
4 spring onions, finely sliced
1 punnet snow pea sprouts, trimmed
½ cup roasted and salted peanuts
1 cup coriander leaves
¼ cup rice wine vinegar
Juice of 1 lime
2 teaspoons sugar
3 tablespoons oil
1 tablespoon black sesame seeds


Method:
Remove core from cabbage and discard, finely shred the leaves. Place in a large bowl or platter. Add spring onions, snow peas, peanuts and coriander leaves and toss to combine.
Slice the Tegel Manuka Smoked Chicken Breast - Original 300g into small pieces and mix through the slaw.
Combine rice wine vinegar, lime juice, sugar, oil and black sesame seeds in a jar and mix well. Season the dressing with salt and pepper to taste.
Drizzle dressing over the salad and toss again before serving.
Rate this recipe
Share this recipe