Ingredients: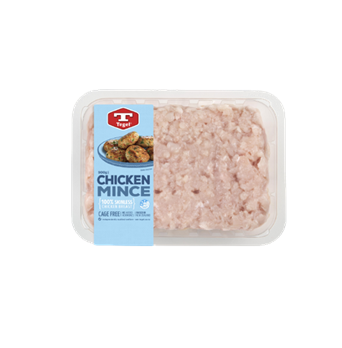 300g Tegel Fresh Chicken Mince2 cups very finely chopped cabbage
4 shitake or brown mushrooms, finely chopped
1 spring onion, finely chopped
1 teaspoon finely grated fresh ginger
2 teaspoons sesame oil
1 tablespoon Chinese cooking wine or dry sherry
1 tablespoon soy sauce
1 1/2 teaspoons cornflour
Approximately 40 small circular dumpling wrappers*
1 egg, beaten
2 tablespoons oil
Dipping Sauce:
1/4 cup sweet chilli sauce
2 tablespoons soy sauce
1 tablespoon lemon juice
Method:
Combine the Tegel Fresh Chicken Mince, cabbage, mushrooms, spring onion, ginger, sesame oil, cooking wine or sherry, soy sauce and cornflour in a bowl and season with a little salt and pepper. Mix well.
Place a heaped teaspoon of the filling in the middle of a wrapper. Fold into a semi circle, brush the edges with beaten egg then form pleats to seal the wrapper together. Place seam side up on a tray lined with baking paper. Continue with the remaining wrappers and filling.
Heat the oil in a large non stick frying pan over medium heat. Add about 1/2 the dumplings and cook for 1 minute or until the bases are lightly browned. Carefully add 1/2 cup water and cover with a lid. Reduce the heat to medium low and steam for 4 to 5 minutes or until the dumplings are cooked. Uncover, increase the heat to medium high and continue to cook for another minute or until the bases are crispy and golden brown. Repeat with remaining dumplings.
Serve hot with the dipping sauce.

Dipping Sauce:
Combine the ingredients in a small bowl
*Dumpling wrappers are available from Asian food stores in the chiller.
Rate this recipe
Share this recipe