Ingredients: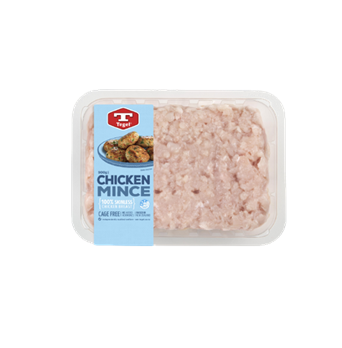 350g Tegel Chicken Mince
2 cups cabbage, finely chopped (or try 2 cups diced Asian slaw!)
2 spring onions, finely diced
2 cloves garlic, crushed
2 teaspoons freshly grated ginger
2 tablespoons soy sauce
2 tablespoons sesame oil
1 tablespoon rice wine vinegar
30 dumpling wrappers
Dipping sauce:
¼ cup chilli oil
¼ cup light soy sauce
¼ cup rice wine vinegar
Method:
Add the chicken mince, cabbage, spring onions, garlic, ginger, soy sauce, sesame oil & rice wine vinegar to a large bowl and mix to combine – season with salt & pepper.

Working one at a time, place 1 teaspoon of the mixture in to the middle of the dumpling wrapper. Brush water around the edge of the dumpling wrapper, then fold the dumpling in half to create a half moon shape and use your fingers to pinch and pleat the edges into your desired dumpling shape. Repeat with remaining wrappers and mixture.

Heat a large non-stick fry pan over medium heat. Add a splash of oil or spray the pan with cooking oil (be careful not to add too much oil as you don't want it to splatter too much when you add the water).

Working in batches, place your dumplings in the pan seam side up. Fry for 2 minutes until the bottoms are golden. Then, carefully pour about 1/2 a cup of water into the bottom of the pan. Place a lid on top to allow the dumplings to cook through and steam until the water has evaporated, about 5 minutes. Repeat with remaining dumplings.

Whisk all the dipping sauce ingredients together in a small bowl and serve with the dumplings.
Top Tip: Make your home-made dumplings extra special with crispy fried sesame seed bottoms! Simply brush the bottoms of your dumplings lightly with water, then press into a plate of sesame seeds before frying.
Rate this recipe
Share this recipe