Ingredients: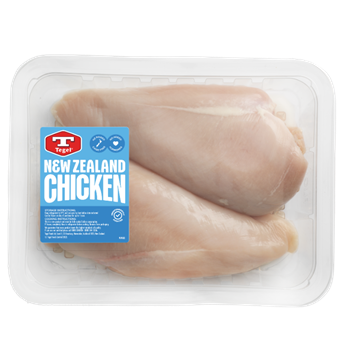 1 tablespoon fresh ginger, grated

1 red chilli, finely chopped

1 teaspoon oil

400g Tegel Fresh Chicken Skinless Breast,sliced into strips

8 large rice paper sheets

¼ cup sesame seeds

1/4 cup mint leaves

1/4 cup coriander leaves

1 Lebanese cucumber, grated or cut in matchsticks

2 carrots, grated or cut in matchsticks

1 capsicum, finely sliced

2 cups shredded red cabbage

2 spring onions, finely chopped

Dipping Sauce:

3 tablespoon Thai sweet chilli sauce

1 tablespoon fish sauce

1 tablespoon lemon or lime juice

1 tablespoon chopped coriander
Method:
In a bowl combine the ginger, chilli and oil.

 

Add the Tegel Fresh Chicken Skinless Breast and mix well.

Heat a non-stick frying pan over medium heat. Add the chicken and grill until cooked through. Remove from heat and set aside to cool.

Individually soak the rice paper sheets in a bowl of warm water until softened, about 30 seconds. Pat dry and place on a flat surface.

Sprinkle the rice papers with sesame seeds and herbs. Place chicken, cucumber, carrot, capsicum and spring onion in a line along the centre of the rice paper wrapper, leaving about 3cm at each end.

Fold the left and right edges of the rice paper in then, starting at the bottom, roll the rice paper up to cover the fillings. Keep rolling firmly until you have a spring roll. The sticky rice paper will seal itself. Repeat with remaining rice paper wrappers and ingredients.

Serve with dipping sauce.

 



Dipping Sauce:

In a small bowl, whisk together all dipping sauce ingredients.
Tips for Vietnamese Chicken Rice Paper Rolls:
Rate this recipe
Share this recipe