Ingredients: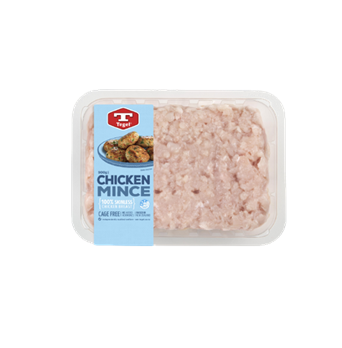 1 tin black beans, drained & rinsed
1 clove garlic, crushed
35g packet Taco Seasoning Mix
1 cup water
200g packet corn chips
1 cup grated cheese
2 tomatoes, finely chopped
½ red onion, finely chopped
1 lime, juiced
¼ cup chopped coriander
Sour cream & guacamole to serve
Method:
Heat a dash of oil in frying pan. Add Tegel Fresh Chicken Mince and garlic and cook for 4-5 minutes over a medium heat, until golden brown. Mash with a fork to break up the chicken as it cooks.
Add the seasoning mix, black beans & water and simmer for 5 minutes, or until the sauce has thickened.
To make the salsa, add the tomatoes, onion, lime juice and coriander to a bowl. Season with salt and gently toss to combine.
Place the corn chips onto an ovenproof platter. Spoon the chicken mince over the corn chips. Top with the grated cheese.
Cook under a preheated grill for 3-4 minutes or until the cheese is bubbling and golden brown. Before serving, top with sour cream, guacamole & salsa.
Tips for Cheesy Chicken Loaded Nachos:
Rate this recipe
Share this recipe